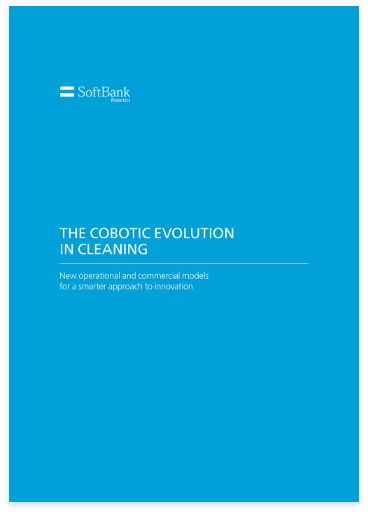 Free Download:
The Cobotic Evolution
in Cleaning
New operational and commercial models for a smarter approach to innovation
DOWNDLOAD FOR FREE
The first six months of 2020 have challenged the global economy at a scale not seen in almost 100 years and the Great Depression of the 1930s.
The Covid-19 pandemic has challenged the facility management industry on an unprecedented scale.
The facility management industry was already facing severe challenges, with squeezed profit margins and increased pressure from clients to demonstrate enhanced performance and innovation.
COVID-19 has now brought things to a head…
This white paper, based on extensive research amongst FM leaders across EMEA, highlights the need for fresh thinking, new business models and innovative technologies to meet the challenge of COVID-19 and drive the industry forward. In doing so, it explores the concept of cobotics, where cleaning teams work alongside cobots (collaborative robots) to drive performance and deliver efficiencies.
The white paper explores the benefits of cobotics, the role of strategic partnerships and performance-based contracts within FM, and the need for new operational and commercial models.
FM leaders regard the integration of cobotics into their operations as a key strategic imperative over the coming years but the research highlights a number of barriers they must overcome in order to do so.
The white paper provides advice for FM leaders to deploy robotics quickly and seamlessly in order to meet current challenges.